Presidents' Pen
As I stated in the December newsletter, we will try to hold an election this year for all offices of the Long Branch Civic Association. I say, "try" because in order to have an election, we will need at least two people interested in the same position. I know that there are a lot of new families who have, during the past few years, moved into the neighborhood and some new faces on the civic association would do us all some good. By my own fault, I have been President for six or seven years. And Laura Niel has been involved longer than I have, thank you, Laura.
The officers of the Long Branch Civic Association are as follows:
President – Jeff Stoll
Vice President – Karla Gill
Secretary – Ruth Anne Stoll
Treasurer – Laura Niel
Membership and Welcoming – Tu'lann von Christierson
Newsletter – Melinda Malico
Neighborhood Watch – Barb Mink
Social Chairperson – Karla Kelly
Database – Open
Front Entrance Maintenance - Open
I am scheduling the election to take place on Tuesday May 31, 2005, which will also be our next Civic Association Meeting. If you have suggestions for a topic please let me know. If you are interested in getting involved, please e-mail me at jstoll@cox.net and please copy Ruth Anne Stoll at rstoll@cox.net, as she is the LBCA secretary.
Curb painting

. I have found a painter who will be getting started soon to repaint all the house numbers and street names throughout Long Branch. Currently we are finalizing the count of what needs to be painted and settling on a price.

Membership drive

. At our last meeting, we discussed moving the membership drive to May and trying to have it completed by May 31 for the elections. In light of all the new faces in the neighborhood, we are going to update the directory after this May's membership drive.

Street Representatives

. In the next few weeks, you will be receiving a LBCA membership form for each house. I would like to ask that you make a strong effort to get the forms updated and dues collected and turned into the Civic Association by May 31.

Neighborhood Watch

. I would like to thank Heather Lynskey for her years of support in managing the neighborhood watch program for the Long Branch community. Heather has been working hard in this role since before I became president. Our community owes Heather a big THANK YOU for keeping this program going and working to keep our neighborhood safe. Along those same lines, I would like to thank Barb Mink for stepping up to the task of taking over the neighborhood watch program.

Front Entrances

. I would also like to that this opportunity to thank Norene Gerstner for her years of support in maintaining the front entrances for the Long Branch community. Norene has been in this role again since before I became president. Norene has taken her time to coordinate, and in many cases do the work herself, of clean up, planting and decoration of the of the front entrance monuments. Thanks to Norene's efforts, our front entrances have been dressed for the appropriate occasion and have always had beautiful flowers growing around them. Norene, your support will be greatly missed. Anyone interested in filling this position, please contact me.

Social Chairman

, I would like to thank Michelle Mitchell for her support as the social chairperson for the past few years. I would also like welcome Karla Kelly who volunteered to fill this position and is currently doing it.

New Street Representative needed

. Many of you know the Gentrys have retired to Florida, leaving a need for a new street representative for King David Boulevard, houses 5003 through 5015. Anyone interested in filling this position, please contact me.
I would also like to thank all the new street representatives for their support to the Long Branch Civic Association. David Niel replaced Sandra Hoch for King David: 4900-5001, Julie Wiggins replaced Debbie Booz for Cascus Drive, Lisa Spero replaced Nancy Marshall for Tabard Place: 4800-4817. Thank you all.
In closing, it takes the support of everyone to keep our community safe and a fun place to live. As you can see, it has been a small handful of us who have been keeping the civic association going. If you find yourself wishing certain things were taking place in our community, or simply find yourself looking for something to do—please help us out. I am making a strong effort this year to organize the civic association to ensure its continued success. If anyone is interested in any position, please contact me. As you can see, our neighborhood is changing and to ensure consistency in our civic association, we need leaders made up of old and new members. I look forward to a great summer.
Jeff Stoll
703-426-0860 or jstoll@cox.net
Upcoming events
· Membership Drive – May
· Community Yard Sale Saturday – Saturday, May 14
· Due scheduling conflicts—the Long Branch Homes Tour has been postponed and rescheduled for Sept. 11. Please contact Karla Kelly if you are interested in showing your home!
· Long Branch Civic Association Elections
· May 31 at Canterbury Woods ES
· 4th of July Parade and Picnic – Saturday, July 2
Long Branch Swim and Racquet Club
For great summer fun right in your own neighborhood
Our pool and tennis club is open to Long Branch residents and anyone who lives nearby. Located at the end of Burnetta Drive off Bradfield or King Solomon Drives, the club is the hub of relaxation and recreation in our area. It's the ideal place to swim or picnic with your family, meet new friends, practice your serve or play a doubles match, swim laps or just lounge in the sun. If you're new to the area, we offer these and other features for a reasonable annual fee:
· Lifeguard-protected swimming for the whole family
· Double private tennis courts with lights
· Tennis and swimming lessons available
· Swim team open to ages 6 through 18
· Special parties for kids and adults
· Baby pool for the littlest ones
· Thursday night raft nights for all ages
· Diving, and a slide new in 2003
· Reserved lap swimming for adults
· Cold drinks and ice cream treats for sale
· Picnic areas to reserve for private parties
· Lounge chairs, umbrella-shaded tables
· Private bathrooms with showers
Special Savings for new 2005 members!
Call Ken Slattery at (703) 425-0671 for the details or for a free family guest pass.
<![if !vml]>

<![endif]>Long Branch Dolphins Swim Team
Join the Long Branch Dolphins Swim Team for great fun. Kids ages 5 to 18 are welcome.
Registration will take place at 5001 King Solomon Drive on:
Saturday, May 7 from 11:00 am to 5:00 pm
Sunday, May 8 from 11:00 am to 5:00 pm
Orders for team swimsuits will be taken at registration.
Registration forms will be e-mailed to former team members. New team members, please call Carolyn Pravlik at 703-425-9835 or e-mail her at cpravlik@verizon.net to get a registration form or to obtain other information.
Registration forms will also be available at registration, but it is easier to fill them out in advance. See you at registration!
Long Branch Neighborhood Yard Sale is Saturday, May 14
An advertisement will be placed in the Washington Post to announce the yard sale.
Avoiding Telemarketers
If you want to avoid telemarketing calls—call the National DO-NOT-CALL Registry from the phone number you want included on the list. The number is 1-888-382-1222. It takes about one minute of your time. Registering your number prevents telemarketers from calling you (legally) for five years.
Community Meeting Report
At the recent community meeting of the LBCA, a representative from Supervisor Sharon Bulova's office addressed the group about community associations and what rights they have. She also enlightened those in attendance about local rules and regulations.
Did you know?
That you are responsible for any shrubs or trees that are growing over the sidewalk in front of your house? This is a state law and if you don't keep the sidewalk unobstructed, the state will come and trim your shrubs and trees.

That you are not allowed to have a dumpster in the street when you are undergoing a home renovation?

That local Health Department regulations do not permit more than four unrelated (by blood or marriage) people to live in a house? If you have concerns that multiple families or groups of people may occupy a home in our community, you can report the violation (anonymously) to Supervisor Bulova's office.

That local zoning ordinances prohibit any fence in front of your house from exceeding four feet in height?

That you can report a burned-out street light to Dominion Virginia Power by giving them the streetlight number that is displayed on the side of the pole?
For more information about these and other related questions, contact Supervisor Bulova's office at:
Local School News
KINDERGARTEN ORIENTATION
May 16, 2005
2:30 - 3:45 p.m.
Canterbury Woods Elementary School
4910 Willet Drive
Annandale, VA 22003
If you have a child that will be five years old by September 30,
you should plan to attend
For more information, contact the school at (703) 764-5600
3RD Annual W.T. Woodson Cavalier Charge Golf Tournament
Sponsored by the W. T. Woodson Athletic Boosters
The Booster's goal is to provide something for every athlete at Woodson so that the students can have the best, most positive athletic experiences possible during their high school years. During the past year, Booster fund raising activities have provided over $100,000 to address various athletic needs such as: restoration of the Stadium field, upgrading practice fields, basketball backboards, a new sound system for the gym, equipment and uniform replacement, transportation needs, etc. But there are always athletic needs that must be addressed. Please join with us by participating in the 3rd Annual W. T. Woodson Cavalier Charge Golf Tournament. This year's event will be held on Monday, June 20 at 8 am at Penderbrook Golf Club with Honorary Co-Chairs Tom Davis and Chris Knoche returning for a 3rd year. For further information and registration forms, contact Dick Thaxton at dickthaxton@aol.com, pick up an application in the Woodson Activities Office, or go to the PTSA web site at http://wtwoodsonptsa.org for information and sign-up forms.
Great colors, fun designs…
Long Branch Potter Offers Spring Specials & Unique Pottery
Our very own Long Branch potter-artist, Susan Fox Hirschmann, now offers
a "Spring Fling Special" of 15% off all pottery in stock to Long Branch residents and their families from April until July 1st. Long Branch residents and their families always receive 10% discounts on her pottery year-round.
Susan's wonderful light-filled studio is full of lots of new functional and decorative pottery for all your pottery needs:
*Great gifts for Mother's Day, Weddings, Father's Day
*Pottery for walls and table tops to brighten your home for spring
*Designs such as bowls, vases, wall plates, hanging mirrors, trays, baskets, covered vessels, and pitchers--- perfect for contemporary or traditional homes or offices
*Free packing
*UPS shipping at a nominal charge for your convenience
*Hours by appointment
Susan also is offering a new Monday night adults' Pottery Class for beginners and intermediate students, focusing on making pots for plants and flowers, to be held in her 1000 square-foot backyard studio. Classes are held from April 25th thru June 13th, from 6-9pm.
Please call Susan for a convenient appointment to see her new work or to stop by for tea and a visit! Let her share her creative joy of working with clay, and her love for color and design in helping you choose the perfect custom design to beautify your home for spring.
Call Susan at 703-978-1480 or email: artpottery616@aol.com
4810 Tabard Place ~ Annandale, Va. 22003
Visit her award-winning Web site: www.silverhawk.com/ex99/hirschmann
Street Representatives
B Alyssum—9218 Fidd
B Bradfield & Burnetta—9201 Katzer
B Bramble—9109 Owen
B Cascus— 9113 Wiggins
B Claytonia—9206 Elliott
B Colt—9117 Kalantgis
B Gloxinia—4924 Finkel
B King David (4900–5001)—4926 Niel
B King David (5003–5015)—5007 vacant
B King David (5017–5031)—5024 Moore
B King David (5032–5126)—5124 Leonard
B King Solomon (4800–4816)—4815 Bruce
B King Solomon (4817–4838)—4821 Rabadan
B King Solomon (4900–4920)—4918 Burns
B King Solomon (4921–5008)—5002 Wright
B Loosestrife—4910 Letellier
B Meadow Rue—9111 Herrick
B Mignonette—5002 Banks
B Sabra/Windflower (9100–9123)—4949 Ellis
B Windflower (9000–9026)—9009 Alvo
B Steeplebush—9112 Taylor
B Tabard (4800–4817)—4813 Spero
B Tabard (4819–4838)—4835 Roden

Classified
For sale: Baby Grand Piano, ca. 1925 Sohmer, walnut finish, original condition, great tone and action, appraised for $3000, asking $2500 or best offer. Needs a good home. Call Marcy.
No Longer Available
<![if !vml]>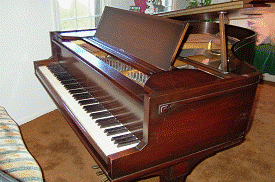 <![endif]>
For Sale- Beautiful Yamaha cherry-wood electronic upright piano with volume control, headphones and can be connected to a computer for composing. It has 2 piano tones as well as an electronic option. Included is a matching bench with a storage drawer. Call Zena or Fred to view. Original cost over $3,200.00 now asking $950.00 OBO. 703-425-7594
Car for Sale
1996 Ford Taurus Wagon, 85,000 miles. Mechanically sound. Runs well. Third seat/roof rack.
Make an offer.
Slattery 703-425-0671